7 Day Golf and Scenic Tour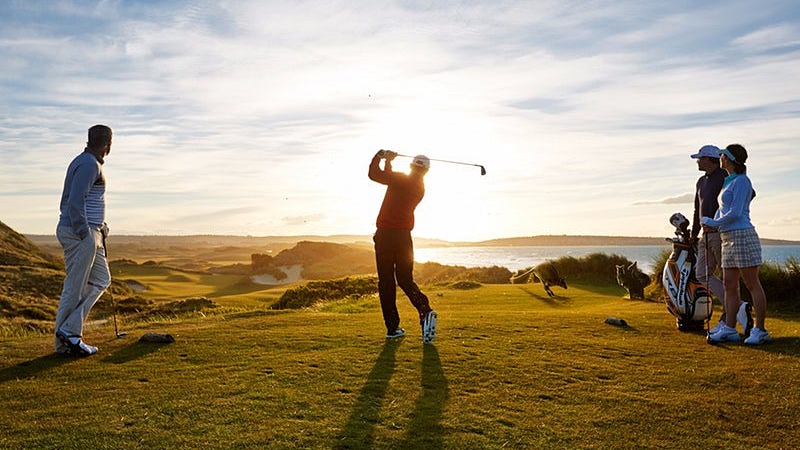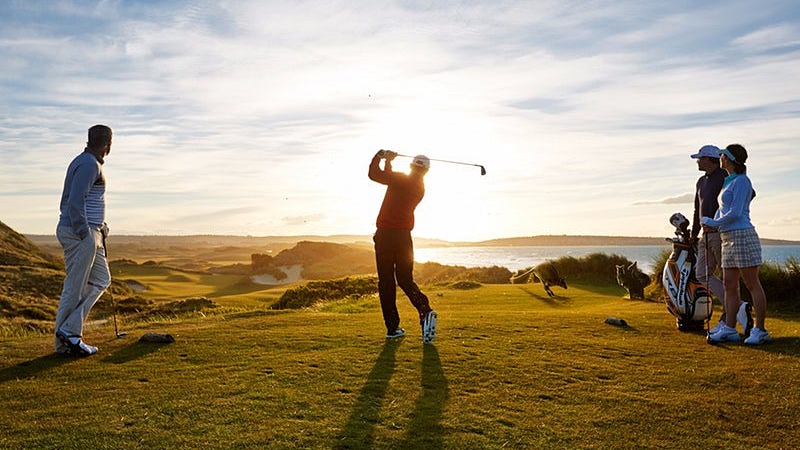 7 Day Golf and Scenic Tour
Join us on the magical 7 Day Golf and Scenic Tour. This is a tour that will leave you breathless and create everlasting memories, featuring 5 stunning golf courses, gorgeous accommodation and beautiful dining!
Package includes - 6 nights accommodation, all 6 evening meals and breakfasts. Flights to King Island, 5 rounds of golf and all transport.
Price is per person and twin share. $500 single surcharge will apply.
The Ultimate Tasmanian Golf Tour
DAY 1 - Barnbougle Dunes Golf Course
Enjoy the 7-day Golf tour in luxury comfort. We will welcome you from the Launceston airport. After a 1-hour (approximately) journey consisting of cold refreshments and sightseeing, we will arrive at the magnificent Barnbougle and Lost farm complex.
At Barnbougle, golf is an experience that strikes all the senses. With the sun on your back, the wind in your hair, the whiff of sea salt and the roar of the ocean, you'll be captivated by all that Mother Nature has to offer.
Barnbougle becomes more about a game of strategy, than simply a game of golf. Each shot requires tactical thought, where a little creativity can be very rewarding. It's strong enough to test gifted golfers, yet fair enough to be enjoyed by the average player.
Once this majestic golf course has been mastered, let us show you the other attractions which makes this venue so spectacular. A gorgeous 3-course meal and delightful accommodation, will complete today perfectly.
DAY 2 - Barnbougle Lost Farm Golf Course
Today the magic of the Barnbougle Lost Farm golf course will commence. Barnbougle Lost Farm is a breathtaking golf course, dramatically different yet complementary to both the surrounding landscape and the Barnbougle Dunes. A 20 hole course that will challenge golfers of all ages and abilities.
Despite the close proximity of Lost Farm to Barnbougle Dunes, the two courses are remarkably different. The sand dunes on which Lost Farm is located are steeper and more dramatic than those of Barnbougle Dunes, which gives you two magnificent golf experiences.
After a memorable day on the dunes, you will be transported back to Launceston in luxurious comfort to the spectacular Country Club Tasmania. The spectacular Resort is nestled amongst 300 acres of parkland, lakes and rolling paddocks yet only 10 minutes from Launceston CBD. Country Club Tasmania remains the premier choice for entertainment, dining, and deluxe accommodation in Launceston.
Creature comforts available include a mini bar, premium bathroom amenities, daily newspaper, Foxtel, and complimentary high speed Wi-Fi. Resort facilities include Health Club & Indoor swimming pool, 18 Hole Golf course along with a range of 5 restaurants & 4 bars.
Tonight we will experience the award winning Terrace Restaurant. A 3-course meal that will excite all senses followed by luxury accommodation at the Resort will end the day perfectly.
DAY 3 - Tamar Valley Wine Region
Wake up with a delightful buffet breakfast at the Resort, before a day of sight-seeing. Visiting some of Tasmania's finest wine regions, and enjoying an amazing choice of world class wines and boutique beers. Today will be all about rest and recuperation.
Today we will visit the Tamar Valley wine region. From Pipers River in the north, through to Launceston and Relbia in the south, there are more than 32 vineyards within driving distance of each other. Fall in love with the Tamar Valley's easy charm - it is a voyage of modern indulgence and discovery of glorious history. A personal favourite destination of mine is the Little Rivers Brewery in Scottsdale. Craft beer at its finest!
After a beautiful day, we will make our way back to the Country Club Casino Resort for the evening meal and the chance to have a flutter. This tranquil location will be perfect to get ready for the adventures ahead. Buffet dinner included at the fabulous Links restaurant.
DAY 4 - Country Club Casino Golf Course
Buffet breakfast will start the day perfectly. Taking in the glorious nature of the Country Club takes precedence this morning as we are able to enjoy a stunning round of golf.
Tasmania is fast becoming known as the golfing capital of Australia and Country Club Tasmania is a perfect and central location. The jewel in Country Club Tasmania's crown is the 18-hole championship golf course, recognised as one of Tasmania's finest original links.
Following our round, we will make our way through to the North-West Coast, visiting some fantastic locations along the way. Ashgrove Cheese Factory, Christmas Hills Raspberry Farm Cafe and Anvers Chocolate Factory are a sample of the beautiful venues on offer.
Today's lunch destination will be at the Tasmanian Food & Wine Conservatory. This unique eatery is a cafe and providore stocking 100% Tasmanian produce from the best growers and producers across the state.
The North-West Coast will finish our trail for the day, with selected luxury accommodation organised at time of booking. A delightful 3-course meal will conclude the day perfectly.
DAY 5 - Cradle Mountain
It is off to the magnificent Cradle Mountain today. Enjoy the scenic adventure driving in luxury to one of Tasmania's iconic landmarks.
The beautiful Cradle Mountain is an iconic landmark that will not disappoint. The vegetation is rich and diverse and provides a perfect habitat for wildlife, including Tasmanian devils, quolls, platypus, echidna and several bird species. Cradle Mountain is certainly a feast for the senses and a perfect opportunity to collect spectacular photos!
We will enjoy lunch at the tranquil Cradle Mountain Lodge.
After lunch it is back to Launceston to the Country Club Resort. Tonight's menu will consist of gourmet wood fired pizzas at the Bolters Bar and restaurant.
Our accommodation tonight will be at the Country Club Villas. Spread out and relax in the ambient and spacious self-contained villas featuring a separate bedroom and living room. Within the 4 star rooms a fully equipped kitchenette with modern appliances and private bathroom will ensure you feel right at home.
DAY 6 - King Island, Cape Wickham Golf Course
Today we venture to the gorgeous King Island. An all inclusive flight to this spectacular destination will make the morning a seamless and enjoyable experience.
King Island is anchored in the middle of the Bass Strait between Victoria and Tasmania's North West coast. Surrounded by some of Australia's most beautiful beaches, King Island has two new golf courses in Ocean Dunes and Cape Wickham which are ranked among the best in the world and we get to experience them both!
Our first destination once landed will be at the Ocean Dunes Golf Club for a spectacular round of 18 holes.
Ocean Dunes has added another dimension to the world's love affair with outstanding new golf courses in remote, challenging locations. The course is as strategically layered as it is visually mesmerising, changing with the seasons and the volatile conditions.
After a breathtaking round of links golf, Luxury Golf & Scenic Tours Tasmania will provide the leading accommodation and dinner options available to ensure a memorable experience all around.
DAY 7
With breakfast included you will be set for the final day of our adventure. Cape Wickham will be on the menu today and what an unbelievable course this is. Australia's number 1 public access golf course, number 3 course in Australia and number 24 in the world! For many, this course will be the pinnacle of the trip. Why not save the best for last?
There are stunning ocean vistas from every single hole on the course.The change in elevation on the fairways is dramatic, the bunkers are superb, and the scenery is stunning. Many golf courses have a standout hole but with Cape Wickham Golf Course, every hole is a standout.
Once completed refreshments will be provided and after last minute photos, the team will take you to the airport. But this will not be goodbye, we will see you again soon!
Package includes
6 nights' accommodation, all 6 evening meals and breakfasts, flights to King Island, 5 rounds of golf and all transport.
The above tour is subject to availability of accommodation premises, restaurants and golf course(s) for the required period. See terms and conditions for more information.
Price is per person and twin share. $500 single surcharge will apply.
Minimum group of 4. 10% saving per person if over 4 guests and 15% saving per person if over 7 guests. So get a group together and save!