4 Day Luxury Wine & Produce Tour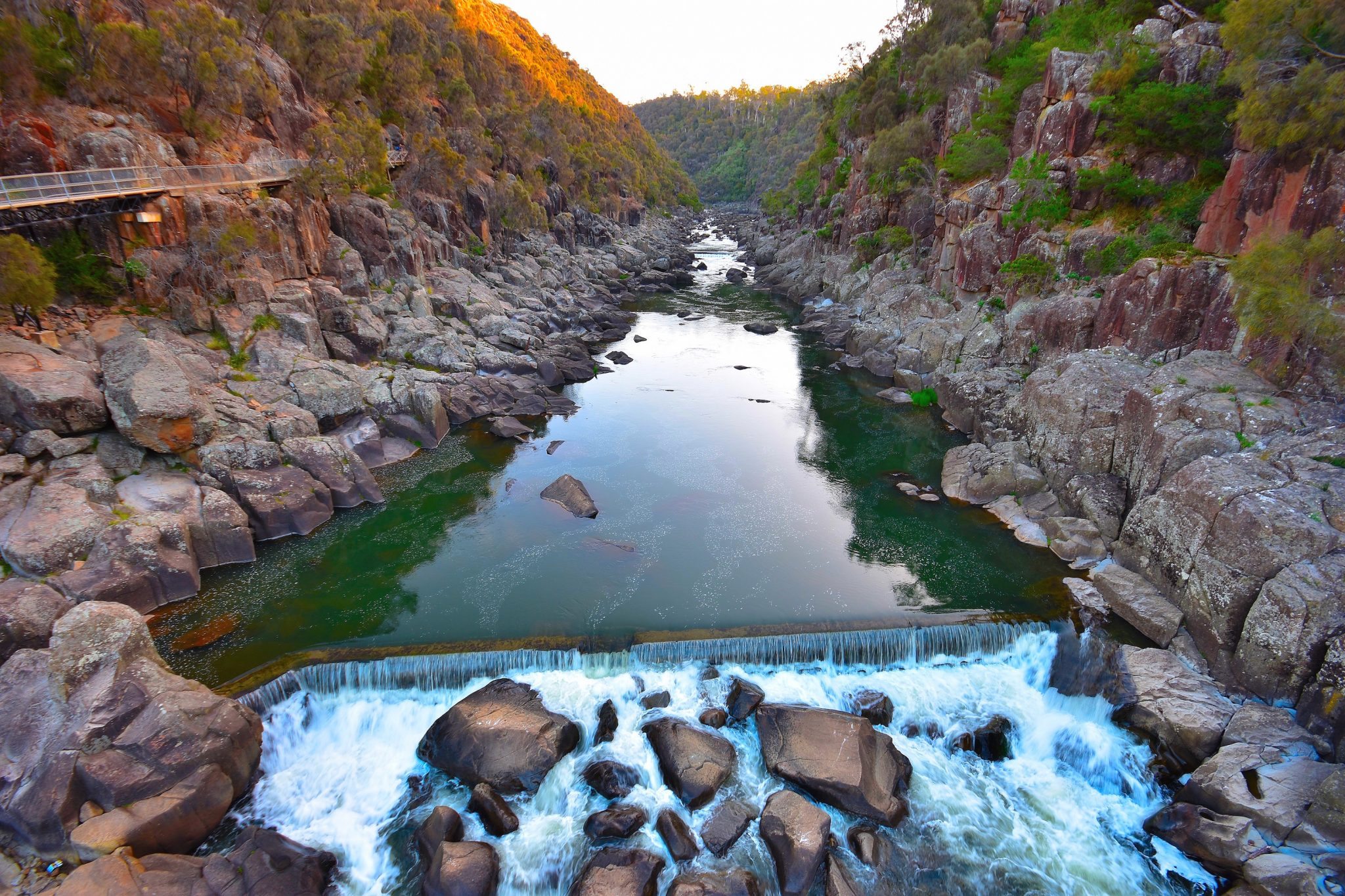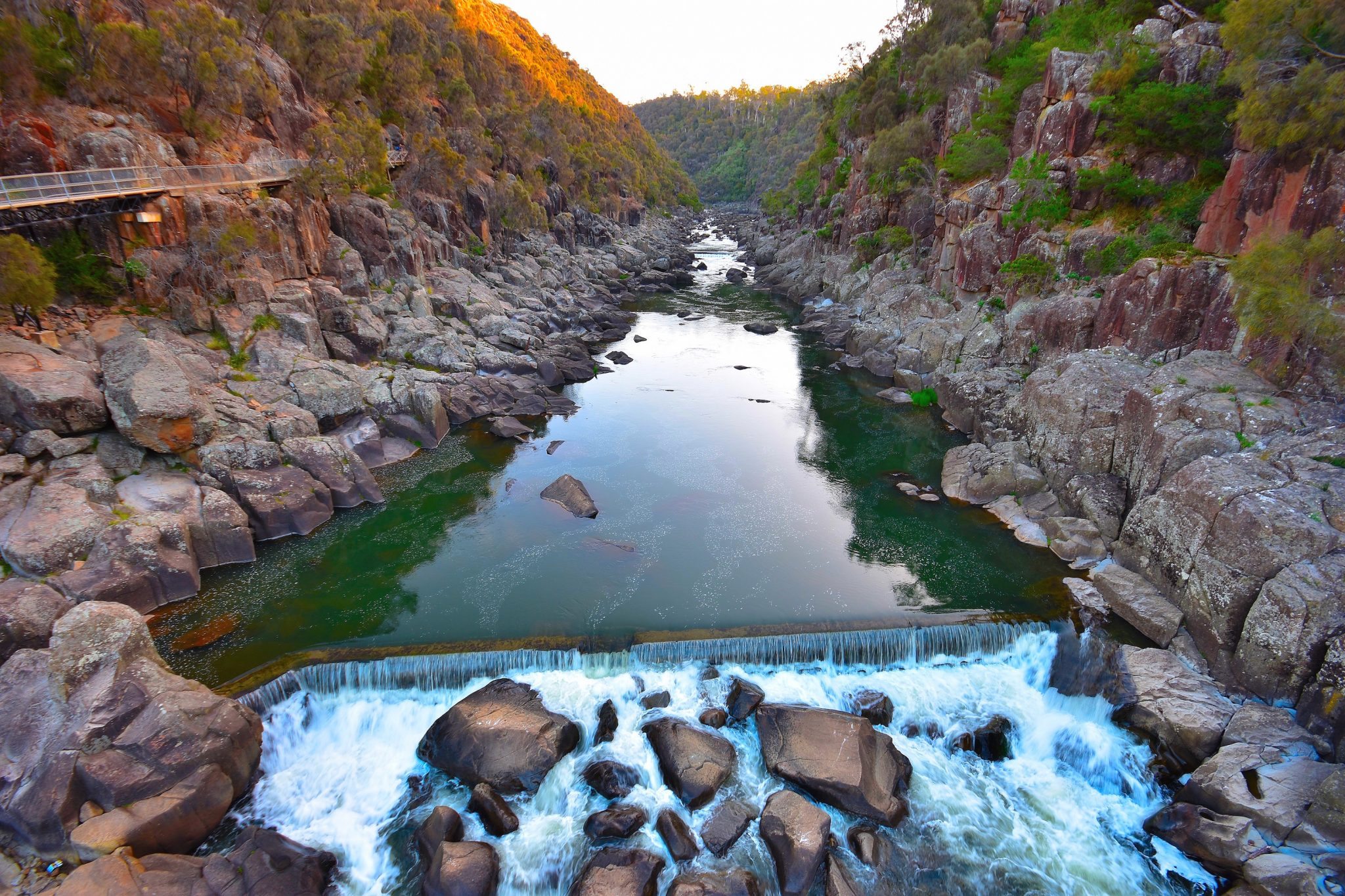 4 Day Luxury Wine & Produce Tour
Enjoy the Luxury 4 Day Wine & Produce Tour in comfort, visiting some of Tasmania's finest landmarks and wineries. This tour will be all about you and experiencing the best of Tasmania. All inclusive experience that will be a tour that will last with you forever.
Tour Includes:
3 x Nights' Accommodation, 3 x Hot Breakfast, 4 x Gourmet Lunch, 3 x Dinner Inc. 1 x 3 course, 1 x 7 course meal and buffet, All tasting included, Mona Ticket, Airport Transfers.

(Tour excludes beverages)
Read full tour description below.
DAY ONE
A warm welcome and introduction to picturesque Launceston begins a day full of stunning scenery and wine tasting at world class wineries.
Destination one will be the magnificent Cataract Gorge. Only minutes from the CBD, the Cataract Gorge is a destination like no other. The bushland, cliffs and ice-cold South Esk River feel a million miles from town. At First Basin there are many enjoyable activities including a chairlift, swimming pool, cafe and restaurant. Peacocks wander aimlessly throughout the gorgeous landscape as time seems to stand still. This place is a delight! We then head on a luxury journey to the picturesque Tamar Valley wine region, sampling the finest wines and stopping at Clover Hill Estate, with a locally-sourced produce platter for lunch. We then make our way to Jansz, Bay of Fires Winery.
Once everyone has enjoyed enough quality wine, we will make our way the Country Club Resort. Our three-course evening meal will be at the Terrace Restaurant. This extravagant restaurant is Country Club Tasmania's signature dining outlet and proudly offers a true paddock to plate experience. A dining experience to be savoured, followed by luxury accommodation at the Country Club Resort.
Meals: Lunch and dinner
DAY TWO
A gorgeous locally-sourced breakfast at the Country Club Tasmania will provide much needed energy to tackle the trip to Hobart.
A one-hour journey will see us reach the historic town of Campbell Town. Campbell Town has an impressive collection of colonial buildings with many antique and speciality shops, including some great coffee options. A perfect location to stretch the legs.
Next stop, Richmond. Richmond is one of Tasmania's most popular destinations, steeped in history, family-friendly and a hub for food and wine lovers. Nestled in the heart of the Coal River Valley, Richmond was established as an important military staging post and convict station linking Hobart with Port Arthur.
Richmond is part of the Coal River region. There are many delightful locations to visit, but we will focus on two this afternoon. The first will be the Wicked Cheese Company. Wicked Cheese is a family owned boutique cheese maker and has emerged, in a few short years, to gain recognition as one of the most impressive, high quality, hand-made cheese ranges in Australia.
Our second stop at Coal River will be with family run business, Coal River Far. A gorgeous stop to enjoy a gourmet lunch. The Coal River Farm combines growing, making and sharing the spoils of their labour with anyone that cares about where their food comes from. Specialising in berries, chocolate and cheese.
Our next attraction has taken the world by storm. MONA! The Museum of Old and New Art is an art museum located within the Moorilla winery on the Berriedale peninsula in Hobart. It is the largest privately funded museum in Australia. The museum presents antiquities, modern and contemporary art from the David Walsh collection. Walsh has described the museum as a "subversive adult Disneyland."
Making our way to The Wrest Point Hotel Casino for dinner and accommodation. The Wrest Point Casino was Australia's first legal casino, opening in the suburb of Sandy Bay in Hobart.
Kwan Ho is tonight's dinner location. A phrase in Chinese that means 'Noble Man', Kwan Ho specialises in a range of Cantonese, Sichuan, Shanghai and other Chinese cuisines. A 7-course meal will be the perfect way to end the day!
Meals: Breakfast, lunch and dinner
DAY THREE
A quality hot breakfast at the Wrest Point Buffett will begin today's proceedings.
A short drive away, we head to the iconic Mount Wellington. The 21 km drive to the summit passes through temperate rainforest to sub-alpine flora and glacial rock formations, and ends with panoramic views of Hobart, Bruny Island, the D'Entrecasteux Channel and into the South West Wilderness.
We then make our way to a beautiful and historic town Ross. Ross is arguably the finest nineteenth century village in Australia. Cobble-style paths and grand old elm trees line the main street, while the Ross Bridge, Australia's third oldest bridge still standing, is possibly the most beautiful of its kind left in the world. A perfect location to stretch the legs and enjoy a beverage.
Launceston has an abundance of world class wineries. Josef Chromys Vineyard is particularly stunning. Acclaimed as one of Australia's top 10, the cellar door is housed in the original 1880s homestead. There's always a log fire burning and great views to take in while you taste a wide range of award-winning cool climate wines including Sparkling, Pinot Gris, Riesling, Sauvignon blanc, Chardonnay, Pinot Noir, Merlot, Botrytis Riesling and a Ruby Pinot Port. We will enjoy a gorgeous lunch at Josef Chromys Vineyard today.
The second and final winery we will visit is Sharmans Winery. Sharmans renowned Tasmanian wines benefit, not only from the maturity of the vines, but also from a variety of other factors that result in exceptional conditions for the growth and ripening of the fruit. The vineyard is planted on north-facing slopes, and the soils are clay-based and sufficiently austere to produce slow-ripening of the grapes, enabling a full development of flavour and complexity in our wines. We will have the luxury to taste a range of these wines.
Heading back to the Country Club Tasmania's beautiful accommodation for this evening, whilst enjoying a buffet at the Links restaurant.
Meals: Breakfast, lunch and dinner
DAY FOUR
Today we will visit the North West of Tasmania, particularly focusing on the tremendous produce available.
Breakfast will take place after a 30-minute drive at the Christmas Hills Raspberry Farm, just outside the quaint town of Deloraine. Specialising in gourmet Raspberry delights and a must do when visiting the Tasmania.
A short journey away is the House of Anvers Chocolate Factory. When you visit the House of Anvers you can see our qualified confectionery staff tempering, moulding and enrobing fine couverture chocolates, truffles, pralines, fudges and more.
The Mersey Bluff is located in Devonport and a great spot to take in the magic sea air and stretch the legs. The Spirit of Tasmania service connects Tasmania and the Mainland and docks in Devonport and is a regular destination for tourists who wish to bring their own vehicles across.
Lunch and wine tasting take us to a stunning winery, Ghost rock Vineyard. The vibrant cellar door - twice crowned Tourism Tasmania's 'Best Cellar Door' offers wine tastings and lunch featuring local artisan food producers. Surrounded by its six vineyards and with striking views over Tasmania's pristine coastline and countryside, it's one of the state's unique wine experiences.
Our final destination is for the cheese lovers, Ashgrove Cheese Factory. Ashgrove Cheese is a family-owned and operated company that produces premium quality dairy products for handcrafted cheddar-style cheeses for customers all across Australia. Ashgrove's impeccable quality has been proven again and again with accolades from the Dairy Industry Association of Australia and other dairy and food award shows, proof that is constantly reinforced by the enduring loyalty of their customers.
Back to Launceston to finish a fantastic four days. It will be a 45-minute journey in luxury transport in a fully air-conditioned back to Launceston to drop off at 4pm.
Meals: Breakfast and lunch
Tour Includes:
3 x Nights' Accommodation, 3 x Hot Breakfast, 4 x Gourmet Lunch, 3 x Dinner Inc. 1 x 3 course, 1 x 7 course meal and buffet, All tasting included, Mona Ticket, Airport Transfers.
The above tour is subject to availability of accommodation premises, restaurants and golf course(s) for the required period. See terms and conditions for more information.